Shutters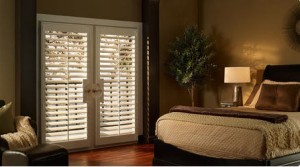 Shutters are elegant and increase the value of your home as an interior upgrade. Shutters offer a timeless, classic look.  As an organic material, we can manipulate the wood to fit perfectly into any window – a necessity because no window is a perfect square. You get a larger variety of louver sizes than vinyl shutters. Wood is a better insulator over vinyl. We have over 20 years of experience installing shutters of all shapes, sizes and materials.  Installation of your shutters is quite possibly the most important decision when purchasing,  we will help you understand application of the shutter to each window and meticulously install your shutters for a perfect fit.
Key Features & Benefits
Available in 1 1/4″, 2 1/2″, 3 1/2″ and 4 1/2″ Louver sizes
Can be painted or stained to match any finish
Can be made to fit almost any window opening
Expert Tips
By far the most important consideration is the application of the shutter in each window. It requires in depth knowledge of how the finished product will look and knowing what to avoid so the shutter will work properly.
Do not let somebody with minimal experience install your shutters. It can make the best made shutter look like it was not made for your window.
If you do not want to shutter all of you windows, choose a wood blind in the same louver widths to finish off your home.