Operations & Controls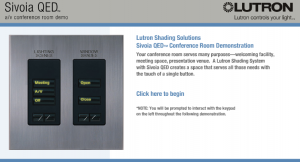 If you are not home year-round, motorization can offer home security by giving the illusion someone is home when you are not.
The different controls available are remote control , automation, wall-switch, group controls, timers, sun, and wind.  If you are building a new home it is best to install at the time of rough frame before the drywall is in place to avoid retrofitting and rewiring.
If you want motorization and you home is already built RF remote control is your best bet. We can explain why.
Key Features & Benefits
Lutron shades and drapes are automated window treatments that operate at the touch of a button from a wall-mounted keypad or a handheld remote. Press "open" or "raise" to open the window treatments, or "close" or "lower" to close them. It's that simple.
Lutron's patented technology provides near silent movement of your shades and drapes, so they don't disrupt what's going on in your home. Whether you are closing the drapes from a keypad while entertaining guests in the dining room, or closing the shades over your tub from a remote control, you will have ultimate control over the daylight and privacy in your home.
Your Lutron shades and drapes can even be installed to work directly with your Lutron lighting controls, or even from a home touch screen system.
Expert Tips
Simple switches can control many groups of shades. Consider using less switches and group shades together t for less wall clutter.
Integrate into to your home lighting controls for one touch light control and shade operation