How It Works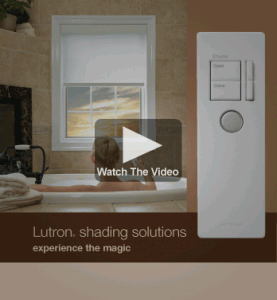 Motorization systems require wiring knowledge and years of experience. Almost any window covering can be motorized for your convenience, enjoy operating your window coverings with a remote control, wall switches or simply allow the sun to automatically move your coverings up or down. We can program the settings to drop down under full sun, thereby saving your carpets and furniture from fading.
Costs range from the simple Hunter Douglas remote control system (in the low hundreds) to a specialized motorization manufacturer which can get into the thousands. Motorization is generally considered a high end product.
Key Features & Benefits
Control the light coming into a room via the touch of a button
Convenience.  Operate hard to reach shades easily
Safety for your children. No cords to get tangled up or play with
Security.  Motorized blinds can give the illusion you are home when you are not
Conservation. Use motorized shades to maximize  and maintain heat gain when needed and keep out heat when you don't want all by programming a timer for the shades
Expert Tips
Consider Control Options that best serve your needs.  Do you want Radio Frequency (RF), Timers or Wall Switches
Control multiple shades with one motor.  This can save you in your final costs.
Battery  Powered or Hardwired?  Is there power near the window?  If so hardwired is the way to go.
Can the shade be hidden,  so that you do not have to look at the motor and wiring?  Let talk, as many options are available.