Living Green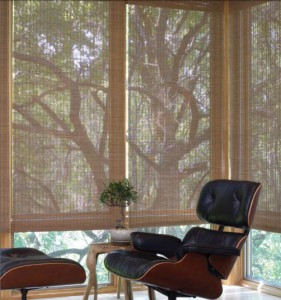 There are many new products available that will increase energy efficiency and that can be helpful in helping you create a green and energy efficient home. Also some new fabrics are inherently green and PVC Free. Polyvinyl Chloride (PVC) is used in many fabrics to make them more durable. These fabrics are still the ideal solution for project requiring superior performance and durability. Additives in PVC off-gas and create the familiar "new car" smell. These additives are known as Volatile Organic Compounds (VOC's). PVC-free fabrics do not contain these additives and as a result, do not release the odor of PVC-based fabrics during off-gassing.
Some window coverings are so energy efficient as to qualify for Federal Tax Rebate of up to $1500.00
Ask us about types of window treatments that will keep your inside environment as healthy as the mountain air.
Go Green with Lutron
Did you know that you can make your home more green with Lutron Shading Solutions? Using Lutron shades reduces solar heat gain in a space, making it more comfortable and reducing the load on your air conditioning system. In fact, Lutron shades can save you up to 10% on cooling costs.
Lutron roller shades are available in a variety of eco-friendly fabrics including PVC-free, GREENGUARD® certified, and Oeko-Tex® certified fabrics. Our PVC-free fabric shades provide a safe alternative to PVC (vinyl) fabrics, which can damage the environment and human health. GREENGUARD and Oeko-Tex certified fabric shades are tested by a third party organization to ensure that the fabrics are free of harmful concentrations of dangerous chemicals that are harmful to one's health. These fabrics are the most environmentally conscious solar shade fabrics available for roller shades.
Lutron is committed to preserving the environment. That's why you'll notice that our products not only help save energy, but even arrive in partially recycled and fully recyclable packaging, too!